Custom work is where we truly shine! The possibilities are endless, scroll down on this page for some of our featured work. Contact us with your ideas, we love a challenge!
Contact Us
Limitless Possibilities
We specialize in custom inlays for your floor, wall hanging, table, or other woodworking projects. One of the many offerings we have is to customize the center hub of your compass. We can add maps, logos, or just about anything you can dream up. The possibilities are endless. Contact us with your ideas.
Contact Us
Make it your own
Whether it is adding geographic coordinates or words, changing the color scheme, or changing the language of the letters, we can modify our compass rose or any of our other standard designs to meet your needs. Most of these types of modifications are free of charge, contact us for information.
Contact Us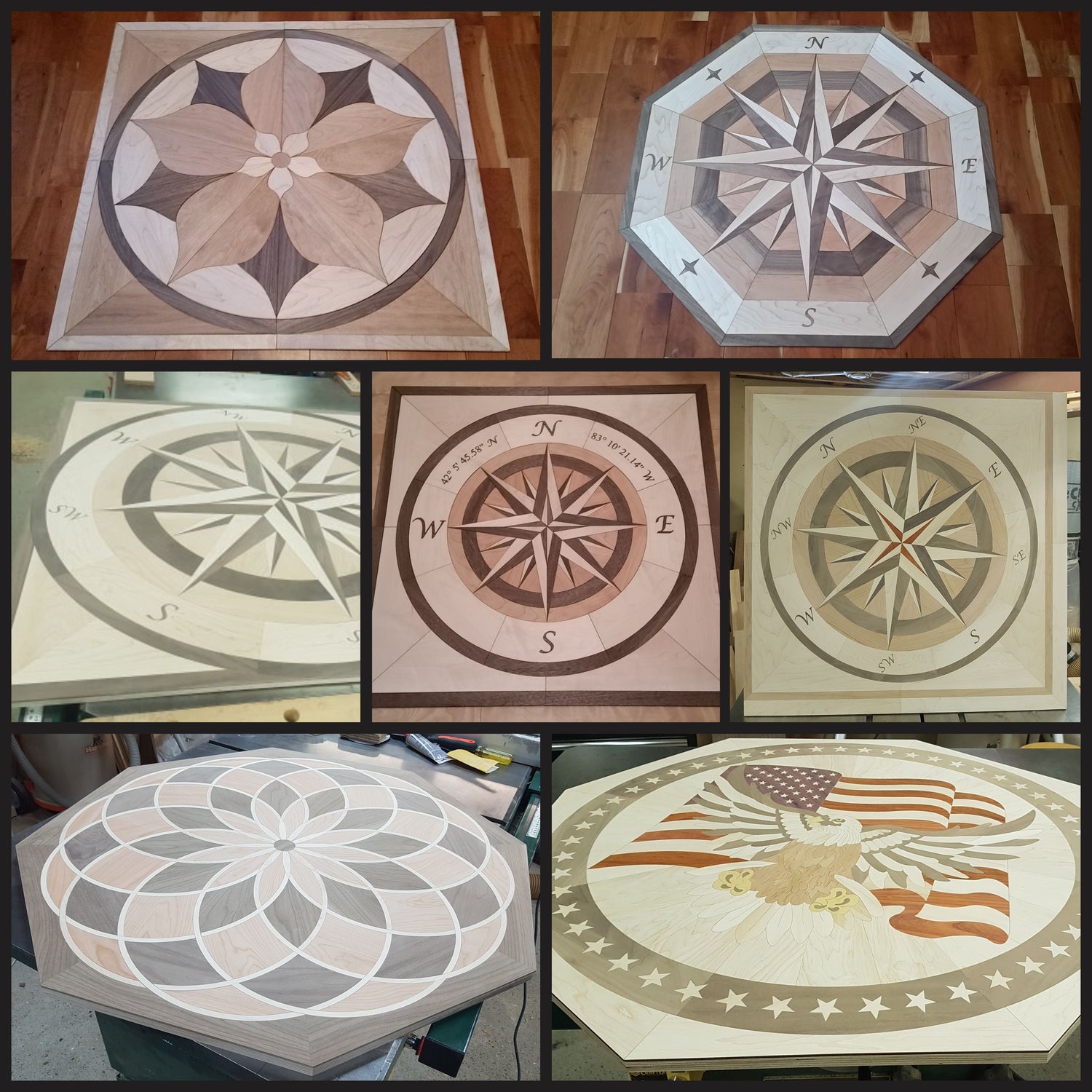 Make it a Square or Octagon
A little daunted by needing to make a round backing board for your DIY kit? Perhaps a simpler installation would suit your needs? We can add a square, hexagon, or any other shaped border to your DIY kit or Pre-Assembled inlay. Contact us for more information.
Contact Us
Logos & Family Crests
Promote your brand with your logo inlayed directly into your floor or add it as a wall hanging. We can use a variety of wood colors to create your logo as a DIY kit or pre-assembled and ready for installation.
We can also turn your family crest into a beautiful hall inlay or wall hanging project.
Contact Us
Unique Custom Designs
Our absolute specialty is in creating custom designs for our customers. If you have an idea, we can make it a reality! From a map of the world to a replica of a painting and everything in between, this is where we shine. Visit our Instagram page for more of our past custom work.
Contact Us
Some of our custom creations
Folding World Map Table

 
Custom Logo in Compass
Customer Creations using DIY kits
Custom Dive Mask Inlay for Boat Table
Custom Marlin Table
More Customer Installations

 
Custom Compass Rose with Curved Drawer
More Custom Tables
Wood Boat Interiors
Contact us with your questions or ideas